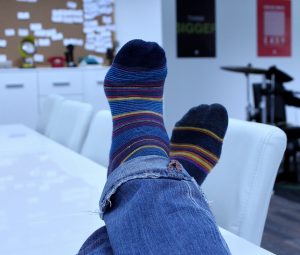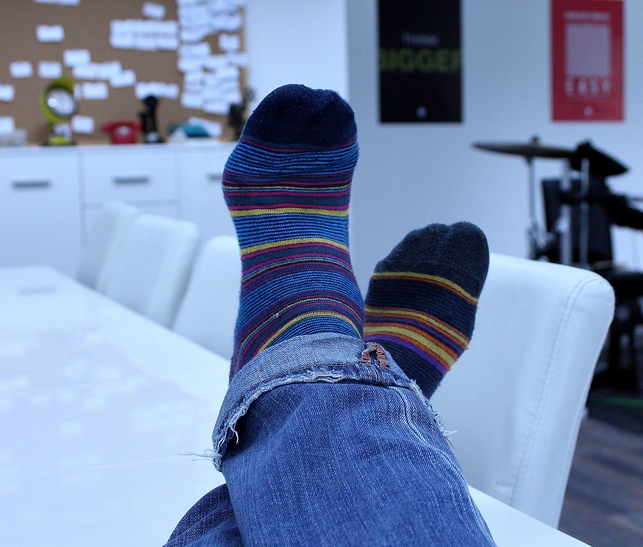 If you look for the idea for own profitable business which is not demanding big investments, pay attention to production of … socks. At first sight, it is such trifle on which it is impossible to make good money. However even not to do the modern person without this trifle.
Socks, tights and other hosiery were always in the increased demand among the consumers. In Soviet period our country was even high on the list in the world on volumes of consumption of a hosiery per capita. For the last several years demand for these goods continues to grow. However, in the domestic market production of the Chinese producers prevails.
Profitability of Socks Production
By different estimates the share of import goods in a socks segment averages about 70%. However gradually this market begins to interest local companies also. Such interest is caused by high profitability of socks production which can reach 100%. It is worth noticing that in a hosiery segment this indicator is slightly lower.
The main problem which the large enterprises which are releasing a hosiery try to solve is connected with the equipment. At many factories the outdated and worn-out cars which remained from Soviet period are used long ago. By means of such equipment it is possible to turn out only low-quality products. More far-sighted companies try to update the cars constantly. Besides, the number of small-scale productions which have the small park of the modern equipment increases and can release the limited range socks.
All production which is presented at the domestic market today can be divided into three separate groups, depending on price category and quality. The most expensive production differing in high quality occupies the smallest share in this segment. It is made, generally at not numerous large factories and small private enterprises on the modern equipment and from import raw materials. However, the most part of expensive socks, tights and stockings is imported into Eastern Europe from other countries – Poland, Germany, Turkey, France, England, Italy, Egypt and China. An import share in this segment the most essential – 90%.
Experts carry the products of foreign production of average quality made of import or domestic raw materials to the second group. The share of import production in this segment less also makes no more than 37%. The main part of socks and tights of average price category is delivered from the Czech Republic, Hungary, Ukraine, Belarus, Latvia, Lithuania and Turkey. The cheapest socks are made on the outdated equipment of low-quality raw materials. And both big factories, and private (often illegal or semi-legal) private enterprises in the south of Russia make them. Cheap socks are delivered also from Turkey, Vietnam, China, Turkmenistan, Tajikistan and Uzbekistan. The share of import makes about 30% in this category.
As a rule, the new companies which only enter the market of a hosiery try to make the widest range of such production at once. It is quite clear, the more the range, the profit is higher and rather you will be able to pay back the investments. However, it will be required to you more funds for purchase of the equipment and tenancy, than at the choice of one direction for work at least at the first stage.
Getting Financing
The banks extremely reluctantly give the credits for opening of production of a hosiery, explaining it to those, usually the market of this production is over-saturated for a long time. However, experts and businessmen consider that it is right only partly and concerns, first of all, the cheapest low-quality socks production. And here in a segment of inexpensive, but qualitative products, on the contrary, the deficiency is observed. The proof of success of this direction is the fact that earlier producers actively opened own company shops, and now the trading companies which were engaged in wholesales of a hosiery, are in their production actively interested.
Ways Of Production & Materials
Despite the monotonous range would seem, socks happen several types. They differ depending on a way of production (knitted and knitted), depending on material (natural vegetable fibers, animal fibers, synthetic fibers, the combined fabrics), depending on a type of the used machine. To natural fabrics of a phytogenesis carry linen and cotton, to animal fibers – wool and silk, to synthetic – nylon, spandex, polyester, an elastic, etc. The combined materials, respectively, combine fibers of natural and artificial origin.
On the range, an optimum combination of the price and quality and also demand men's knitted cotton socks of dark colors of the sizes from 25 to 31 are on the first place (the size is defined by foot length in centimeters). Dark (usually black) color is universal and approaches practically under any men's shoes and clothes. Cotton absorbs moisture and allows skin to breathe. This material is unpretentious in leaving, such socks are easily washed and dried up in the washing machine. At the same time mercerized cotton is more preferable than usual cotton as this material thinner and has small gloss, as at silk. Socks from mercerized cotton are suitable for a summer season. Often add viscose which absorbs excess of moisture even better and gives to skin feeling of a cool in hot season to cotton. Besides, viscose is easily painted and well keeps the color therefore it is used by production of color men's socks which especially often are exposed to washing. On the internet there is way more information about different types of socks which are made for different activities we people are doing.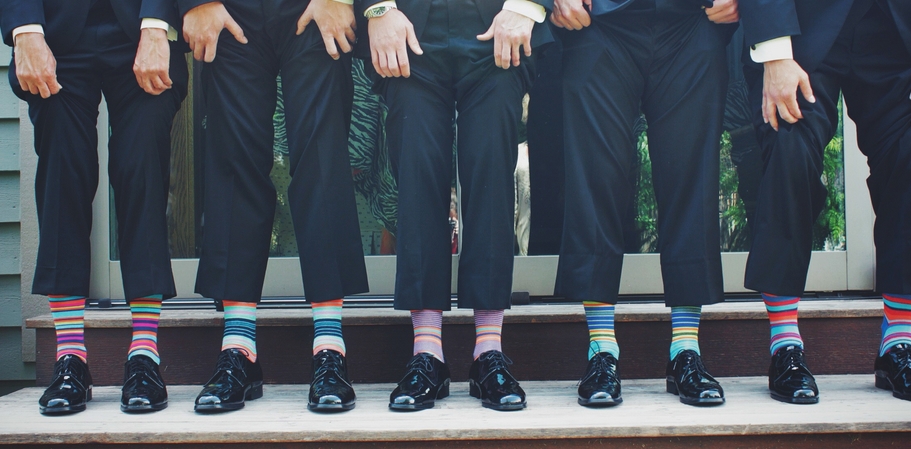 The production technology of socks quite simple also consists of several main stages: production of a basis or preparation of a sock, sewing of a toe, molding of a sock, drawing marking and auxiliary elements, packing of finished goods. Here not to do without the special equipment. The basis of a sock is made on the sock knitting automatic machine. This equipment differs as the applied raw materials, to diameter of cylinders and on a knitting class. Automatic machines happen one – or two-cylinder. Depending on quantity of needles in a holder it is possible to regulate density of knitting of a knitted cloth, and thickness of needles is defined preparation density. The more thinly the used needles, the product will be more dense.
The size of a sock depends directly on diameter of the working cylinder. Machines with cylinders with a diameter of 3,5 inches, 3,75 inches, 4 inches are used to production of men's socks. At first on a yarn which threads refuel is established. Thus, socks without toe are made. The car begins to knit at first elastic cuffs, a heel with foot and a toe without sewing. On completion of work of thread of yarn are cut off by means of automated the equipment, and preparation of future sock moves through vacuum hub in a special basket store.
At the second stage of production semi-automatic machines on which entrance operators put preparation are used. All the rest is carried out already automatically, without the aid of the person. However, sometimes for sewing of a toe on preparation also the manual machines are used. After sewing the sock comes to a basket store again.
Formation of socks is carried out by pressing and the subsequent steaming of a basis on the separate equipment. On semi-automatic press machines with a possibility of moist and heat treatment molding, pressing, drying of socks is carried out. And for management and service of this equipment one person suffices.
The finished product can be marked in various ways, for example, in the form of a sticker of labels on sock couple sewed among themselves or by a personal pair swing. The equipment used for marking in the first and second case differs. At the last stage the product is packed on couple or on several couples in a package. Sometimes the logo is applied on packing. Inexpensive socks cannot be packed, at all. As raw materials for production of 100% cotton socks of black color and the braided latex thread are used. See list of companies producing 100% cotton socks.
For production of socks it is possible to use the domestic equipment (it one enterprise located in Tula makes). The cost of such automatic machine is from 100 to 450 thousand rubles. Besides, it is possible to buy the domestic automatic machine which was in the use which will cost several hundreds of dollars. The minimum set of the new equipment including at least five bearers of socks automatically, the car for sewing of a toe and the forming machine costs more than half a million rubles.
However, according to skilled businessmen, the domestic equipment – not the best choice if you want to make quality production and with the prospect of further expansion of the range. Even if you begin with production of only one socks, after an exit to self-sufficiency level all of you will equally think of further development of the enterprise. One more lack of cars of the Russian production – their low reliability.
Consider that sock  production automatic machines work, as a rule, round the clock, and not each equipment will sustain such loading. Same it is necessary to take into account at the choice of used cars. It is desirable to consult before purchase with the expert, differently because of long idle times of production because of the equipment which constantly fails, you will suffer more losses, than will save upon its purchase. The equipment of the Italian production which differs in much higher quality and reliability will cost in a lump sum – from 150 thousand euros. However, it has more high efficiency and will allow to produce up to 50 thousand pairs of socks a month.
The Italian equipment is possible also second-hand who is able to get. Such option will cost time in two cheaper than new. Risks in this case will be lower, than upon purchase of domestic cars as service life of the Italian automatic machines makes about thirty years. The quite good equipment is manufactured in the Czech Republic. On quality it is quite comparable to Italian (but also at the price too not strongly concedes to it). The Korean and Chinese automatic machines cost much cheaper, but are less reliable, than their European analogs.
Scaling
The organization of large production will require not less than twenty bearers of socks automatically also the accompanying equipment. Add to it raw materials cost for production of socks, the salary of service personnel, cost of rent and utility costs. Volumes of such production are about 2,5 million couples a year. Selling price depends on the used raw materials and can be from 15 rubles (as a rule, in this case the cheapest Uzbek yarn is used) to several ten rubles. The production is more expensive, the profitability is higher. It is connected with the fact that expensive socks are implemented through shops (in this case profitability can reach 100%), and cheap – through the markets (and then profitability does not exceed 30%). On the other hand, in the latter case the turnover of means will be 10 times more that is important for young production company which did not come to self-sufficiency level yet.
At competent approach, according to experts, the settlement full payback of the project with a power up to 650 thousand pairs of socks in a month reaches 1,5-2lt. At large volumes of production terms practically do not change, but more current assets will be required.
According to analysts, production of socks more attractive direction in comparison with other knitted or sewing production having big advantages. One of the main pluses is duration of a production cycle which in a case with socks production will be much shorter. On production of one sock only five minutes leave!
Besides, on socks production a large number of personnel is not required. One person can serve ten and more knitting automatic machines which productivity reaches one million products a year. The equipment is rather compact, for its placement there is enough area from 50 to 100 sq.m.
For production of socks already ready color yarn which does not demand preliminary dyeing is used and, respectively, saves the producer from a headache concerning respect for environmental standards. One more big advantage is connected with the fact that the design of men's socks remains almost invariable. If you have no means or desire to develop designs for children's and female models, it is possible to stop on always demanded classics. However, amusing bright socks will be not in smaller demand, and the cost of services of the graphic designer can be put in prime cost of a product. Even taking into account higher prices creative socks do not lose the popularity.
The main advantage of opening of socks production in our country consists in proximity to consumers. You will be able quickly to react to changes of demand, to monitor the main trends in the market, to consider wishes of the buyers.
The main risks of such business are connected with increase in prices for raw materials and materials, with insufficient demand (because of abundance of the Chinese cheap production in the market), with unstable quality of raw materials. It is possible to struggle with risks of the first and last look by expansion of number of suppliers and the careful choice of each of them. In order that your production it was competitive, it is necessary to invest in its advertising. Develop the system of discounts for the wholesale buyers and the loyalty program who act in B2B segment not less effectively. Stake on high level of quality of the production, on appeal of appearance of the products, on quality and appeal of packing. The last quite often is overlooked by domestic manufacturers. However, you should not forget that the main buyers of such products are women. They buy socks for themselves, for the children and husbands. It is known that customers, first of all, pay attention to original design and decorating not only socks, but even their packing and labels.
Many domestic manufacturers consider that to invest money in development of labels and packing which at once after unpacking will go to a recycle bin is inadmissible squandering. But as show numerous researches of marketing specialists, first of all buyers pay the attention to packing. Thanks to its successful registration they distinguish production of a certain producer from competitors and remember it. When using bright labels and the memorable logo the probability that the buyer will choose your products increases up to 75% also next time.